Watched a TV programme the other night in which Rick Stein talked about food in the context of Italian opera – just when you thought they'd run out of hooks on which to hang cookery programmes. Still, the music was good. Stein disclosed to awe-struck viewers the favourite foods of assorted operatic composers, so I know - or I did the other night - the culinary preferences of people like Verdi, Rossini and Puccini.
Puccini was born in Lucca. It is one of my favourite cities in Tuscany, and not only because my wife and I got engaged there. A bronze figure of Puccini sits, bronze cigar in hand, outside his natal home. The town honours him with a festival of his music every summer. A plaque on a wall nearby reads: "Love and poetry tormented the genius but the musical city gave his magical violin the wings of glory."
A century later, another tormented genius lived in Lucca: the great jazz trumpeter, Chet Baker. The funny valentine who thought he could live undisturbed in sleepy Lucca spent a year there as a guest of the
Carcere di San Giorgio
, the town's ancient prison, for possessing heroin. Every evening, while his red Ferrari gathered dust outside, the pie-eyed piper drew fans old and new to gather on the city walls outside the prison to listen to him practise. Local jazz musicians would join in to entertain what was truly a captive audience. Chet's appeal against his 22-month sentence was eventually successful and he was released in time for Christmas - as was his album,
Chet is Back
, on which he sang some Italian songs he wrote in Lucca jail.
A few years later I saw him in a small jazz club in Nice, but I didn't hear him play. He arrived on stage two hours late, someone led him by the arm towards a chair; he sat and put his trumpet to his lips, but no sound came out. No one moved, and the few people who started to murmur were immediately shushed by their neighbours. He tried again, several times, but produced no more than a few squawks and some mumbled words about new false teeth. I never saw him again: the last weeks in the life of one of the world's greatest jazz trumpeters - the musician who played alongside the likes of Gerry Mulligan, Charlie Parker and Dizzy Gillespie - were spent in the back streets of Amsterdam, the city to which he had always returned in search of his needs. His twisted body was found in the street beneath the hotel window at which he used to play.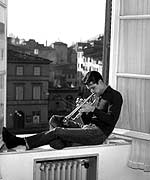 In Lucca, no bronze statue sits outside Chet Baker's custodial home; no annual festival celebrates his music, and no commemorative plaque records his passing. But there is a plaque in a cobbled street in Amsterdam. It reads: "Chet Baker died here on May 13, 1988. He will live on in his music for everyone willing to listen and feel".